Actress LisaRaye McCoy seems to love a powerful man. (Can't be mad at her about that).  After her divorce from the President of Turks and Caicos, she revealed that she was looking for a new love.  Well, it looks like she may have found it in the arms of … (my pastor) Bishop Noel Jones!  The extraordinary pastor resides over the famous mega-church in Los Angeles, The City Of Refuge.  While, normally, LisaRaye's and Noel Jones' personal lives are none of our business, the two have allegedly chosen to make their relationship public on a new reality series entitled 'The Pastors of L.A.'
According to TheYBF:
"Single Ladies" star LisaRaye McCoy, who rose to fame as a stripper named Diamond in "The Player's Club", has landed herself a pastor!  According to AlwaysAList.com, LisaRaye is dating Bishop Noel Jones.
Oh, but there's more.
Though you'd have a hard time coming across "sightings" of the couple (they're keeping the relationship under tight wraps), it's been revealed that the couple's relationship is one of the storylines of the upcoming Oxygen reality series "Pastors of LA".
A synopis of the show, produced by L. Plummer Media in association with Relevé Entertainment, reads:
"Pastors of L.A.' will give viewers a candid and revealing look at six boldly different and world renowned mega-pastors in Southern California, who are willing to share diverse aspects of their lives, from their work in the community and with their parishioners to the very large and sometimes provocative lives they lead away from the pulpit."
Do we REALLY need this reality show?  Really?
A source who saw the pilot described an interesting scene between the couple where Noel took issue with some of LisaRaye's attire.   "He basically told her that he wasn't sure she was 'Godly enough' for his world, and she in turn told him he may not be 'worldly enough' for hers".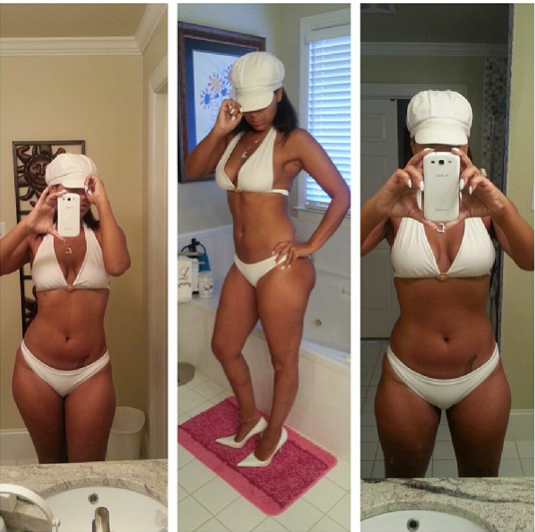 Oh, I wonder if he means her recent bathroom bikini pics from last week (above)…or any of her backshots from KING, Black Men, the list goes on…
The show will also star other Los Angeles-based pastors including Bishop Clarence McClendon, Pastor Wayne Chaney, Bishop Ron Gibson, Pastor Jay Haizlip, and gospel singer Deitrick Haddon.